Technical Specifications of INGEST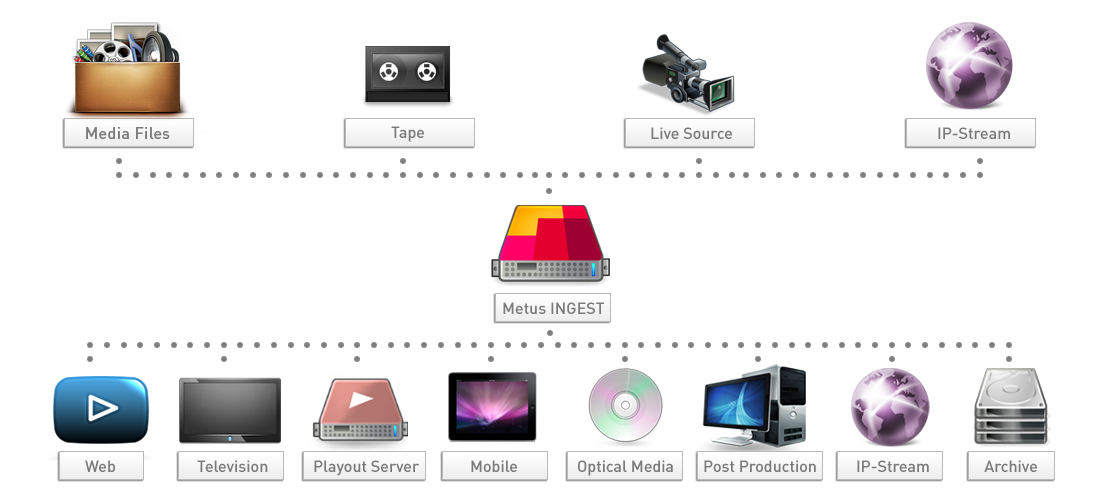 Supported Inputs
| | | |
| --- | --- | --- |
| AJA | : | KONA 4, KONA 3G, KONA LHi, KONA LHe Plus, Corvid, Corvid 3G, Corvid 88, Corvid 44, Corvid 44 BNC |
| Blackmagic Design | : | Decklink Quad 2, Decklink Quad, Decklink Duo, Decklink Duo 2, Decklink Studio, Decklink HD Extreme 3D, Intensity Pro, Decklink SP, Decklink Extreme, DeckLink 4K Extreme 12G, DeckLink 4K Extreme, DeckLink Studio 4K, DeckLink SDI 4K |
| Bluefish444 | : | Epoch range of video I/O cards |
| Deltacast | : | DELTA-sdi and DELTA-hd family of cards. |
| Magewell | : | Pro Capture HDMI, Pro Capture Dual HDMI, Pro Capture Quad HDMI, Pro Capture SDI, Pro Capture Dual SDI, Pro Capture Quad SDI, Pro Capture AIO |
| Matrox | : | VS4, MX02, Mojito MAX |
| Viewcast | : | Osprey 210, Osprey 260e, Osprey 440, Osprey 450e, Osprey 460e |
| NDI TM | : | http://NDI.NewTek.com/ |

Multi channel, multi source, multi format, multi destination capture, streaming, transcoding in a single application.

Multicam Ingest/ Baseband Ingest/ IP Ingest/ File-based Ingest

Directshow based devices

Audio cards with Windows standard drivers

NDI
TM
Ingest/Record and IP stream capture

Mix and match multiple capture cards and devices with the same instance
Key Features

LTC Timecode Support from internal or external sound card (with Blackmagic boards)
​

Detects timecode breaks
​

Closed captioning support (with AJA and Blackmagic boards)
​

Supports video matrix control (Kramer, Blackmagic, Quartz, Jupiter and Pro-Bel routers)
​

Supports still and animated logo, text, and time overlay to captured files

Lossless manual and auto split of files

Rule based media management - delete or move video files based on user defined rules

Supports Safe Network Recording (transfers to a network location on the fly/realtime)

Supports edit while ingest(With Adobe Premiere
®
and GV Edius)

Avid Interplay check-in

Metadata input during capture

User defineable live action marker buttons to mark points and regions on the capturing files (like Goal, Bomb, etc)

Customisable front end, with individual preview screens for each encoder

Each channel can be individually controlled, all channels can also be globally controlled

IP based multi channel remote control option

Remote control software - control and monitor all Metus INGEST instances running on a network

Can be used as file based transcoder, with watch fo

UHD/4K Support
Specifications

Simultaneous multi channel video audio capture from multiple devices (as many as the platform can handle)

Capture multiple formats simultaneously from same source-multi profile operation

Capture, stream or simultaneously capture and stream from the same source, at different formats and qualities.

Multi channel audio capture (SDI embedded or from audio device) to MPEG, MXF, MP4, MOV, AVI files and audio channel remapping support

Scheduled and manual capture modes

Supports LTC and VITC burn in to files

Operations log

Proven rock solid 7x24 reliability tested at over 1000 deployments Capture multiple formats simultaneously from same source-multi profile operation

Supported wrappers: (MPG, M2P, AVI, F4V, MXF, MOV, MP4, TS, WMV, WAV, M4A, P2, AAF)

Supported video and audio essences (Apple ProRes (On server only), Avid DNxHD/DNxHR/IMX/XDCAM/JFIF, MPEG2, DV, DVCPROHD, Uncompressed (YUY2, UYVY, RGB24, RGB32, NV12, YV12, V210 ), H.265/HEVC, H.264/AVC, AVC-Intra, XDCAM HD, XDCAM EX, IMX, JPEG2000, WMV, PCM, AAC, WMA)

GPU-Powered / Hardware accelerated H.265 and H.264 recording on supported platforms (please check with us on the hardware requirements)

IP streaming output: WebRTC, UDP, RTP, RTMP

Lossless JPEG2000 (GPU-based) in MXF OP1a.

SMPTE 436 VANC support (Decklink LL only)

Frame Accurate VTR control (RS-422) and batch capture modes

Smart auto naming of files based on user defined criteria

Print to tape